Today was picture day, if you forgot to send the order in, it's not too late. Call Hillburn at 1-417-256-2050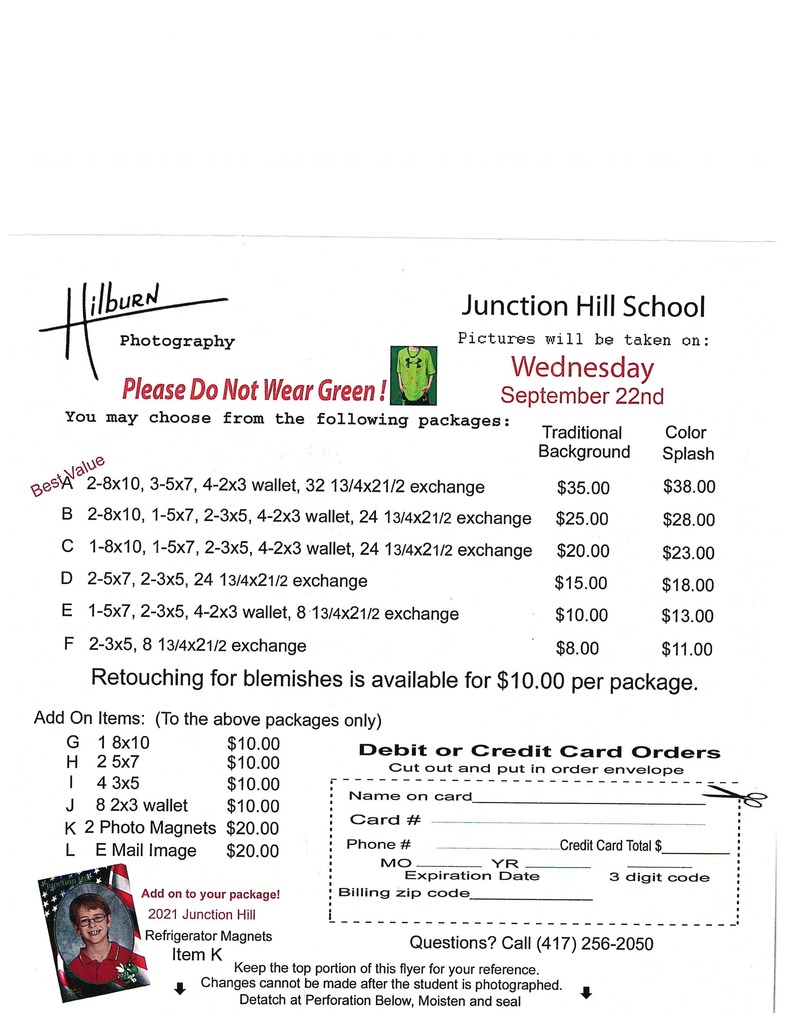 This is just a reminder: Tomorrow, September 22nd, is picture day at Junction Hill.

Due to unforeseen circumstances, the Kosh softball girls are unable to play against us today. Instead, our softball girls are going to play a practice game against each other. Concession stand will still be open. The practice game will begin at 12:30.

Due to the rain and flooded fields, Baseball & Softball camp for today, August 18th, has been cancelled. We will have practice the 1st day of school, Monday, August 23rd from 3:45-5:15PM.

New Student Registration New students who are planning on attending Junction Hill for the 2021-2022 school year may come in and enroll on the following dates: August 10 and 11 from 9am to 1pm.  No appointment is necessary.  This is for students who are new to the district as well as any student who did not attend seated instruction at Junction Hill during the 2020-2021 school year.  Please bring the student's birth certificate, immunization records, and proof of residency in the Junction Hill School District.  If you have any questions, please contact the school at 256-4265.

Parents of summer school bus riders. We are running 10 or 20 min late due to a late arriving high school bus.

The 2020-2021 school year has ended, and our teachers are sad to see it come to a close. We are going to miss our students! It comes as no surprise, but we are already looking forward to 2021-2022. Thank You Junction Hill family!

Attention parents of Summer School Hornets and High School Bus Riders. Summer School Bus Routes - We will be running 3 bus routes to pick up High School students still attending school and summer school students who have contacted the school needing transportation. The 3 bus routes are Mike Haeffner (Bus 17) and his route will be close to the same times currently, Larry Lindeman will be driving Paul Bolander (Bus 10) and George's Route (Bus 1) combined. This route will be about 5 to 10 minutes earlier than normal. Jared Davis will be driving Darrell's route (bus 18) and Karen's route (bus 19) combined. Bus stop times are being identified to be given to parents and students this afternoon or tomorrow for this route. Summer School - Front Doors will open at 7:25 am and breakfast and lunch will be served free to all students. Classes begin at 7:45 am, the day will conclude at 3:50. Parent pick up will begin at 3:40 pm

Last Day of School tomorrow, May 7th. This is a reminder the last day of school will be later this year for dismissal as we will be dismissing at 2:50 pm instead of immediately after the awards assembly. Traditionally we have released after the awards assembly. Any parents that attend are welcome to take their students at the conclusion of the awards assembly. Bus routes will be returning students home approximately 1 hour earlier in the evening than normal. Thank you!

Reminder: Tonight is the Junction Hill School Athletic Banquet. The banquet will begin at 6 PM.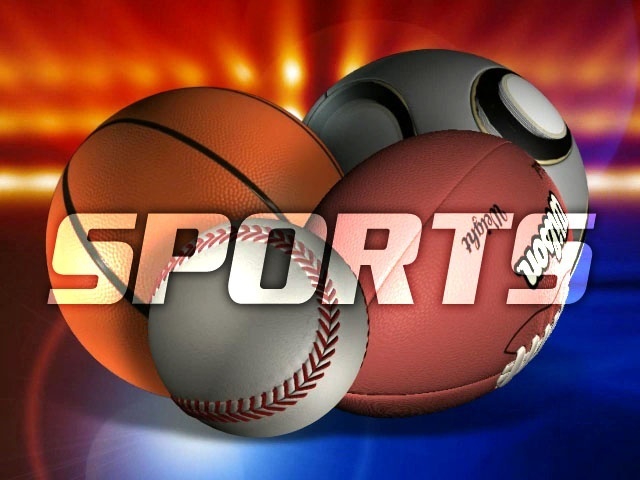 Attention, change of schedule! Due to rain in the forecast, the Junction Hill Field Day and the PTO Slime Time fundraiser will be rescheduled to Friday, April 30. Thank you.

PTO "Little Debbie Fundraiser" Pick up will be Monday, April 19th from 4 pm to 6pm in the Gym. You must pick up the items your child sold. Thank You!

MAP testing for 3rd through 8th grade students will begin on April 7th and continue through April 20th. It is important for students to be in attendance, on time, get plenty of sleep, and eat a healthy breakfast, (provided by the school). Thank you!

Good afternoon, This is a reminder that due to parent teacher conferences, there will be no tutoring at Junction Hill this week. Thank you!

"Good evening, This is a reminder that next week on Tuesday the 9th and Thursday the 11th, Junction Hill will have parent teacher conferences from 4:30 - 7 pm. The conferences are by appointment. If you haven't already scheduled a conference with your child's teacher, and would like to, there is still time to do so. .Please call the school on Monday, or directly message your child's teacher via email to schedule your appointment. Thank you!"

The West Plains R-7 School District has proposed an increase in tuition of $405.43 per student next year, with a minimum increase of 5% for each of the next five years. The attached document details the significant, negative impact an increase of this magnitude will have on the K-8 school districts surrounding West Plains. 

March 1st will be Junction Hill day at West Plains Dairy Queen. 10% of the proceeds from that day will go to our PTO.

School has been cancelled for the remainder of the week due to weather. We will reevaluate Sunday for Monday the 22nd of February.

School is cancelled Tuesday Feb 16th due to icy roads creating hazardous driving conditions and wind chill. Pee Wee basketball games are cancelled as well.

Junction Hill PTO sponsored and purchased the food and drinks for the Valentines Parties.  With classes being cancelled Valentines Parties and Volleyball Games will be rescheduled once we return to classes next week.  Provided weather allows school to resume on Tuesday February 16 the Valentines Parties will take place then or the first day we are able to return.  Volleyball games will be rescheduled once schedules are able to be adjusted and officials scheduled.