News
Watch COVID-19 video updates from Superintendent John Dern. Backpack to School 2020 Back To School Aug, 2020 Grab and Go Food Reminders June 29, 2020 Grab and Go Food Reminders June 2, 2020 Grab and Go Food Reminders Last Week of School Activities May 4 April 18,...
November 11th is a special day to recognize and honor ALL of our Armed Forces Veterans. As the Superintendent of Junction Hill School I want to personally say "Thank You" to all of the veterans who have served our great country. Given the current challenges in hosting events with Covid 19...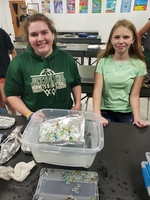 Ms. Blankenship's 7th grade classes have been learning about buoyancy, density, surface tension, and Archimedes' Principle. In this activity students were asked to design, build, and test a raft that will float with the most marbles from the given materials of tin foil and straws.
SEE ALL NEWS
LIVE FEED

November 19, 2020 Junction Hill School has been contacted by the Howell County Health Department to notify us that individuals associated with the Junction Hill School District have tested positive for the Coronavirus. The Howell County Health Department has completed their contact tracing and is contacting the close contacts involved. The Howell County Health Department's response is based upon CDC guidelines and recommendations. We would like to continue to remind everyone to please monitor yourself and your family for symptoms. We also continue to encourage parents that if their child does not feel well or exhibits symptoms associated with Covid-19 in conjunction with running a fever, to please keep them home. We appreciate your cooperation and support as we continue working through the challenges of this school year.

Reminder: No School Today at Junction Hill, Deer Season. Classes resume tomorrow.

There will be no Cheerleading practice today after school. (11/9/20)

Reminder. Tomorrow (Thursday 5th) will be Baseball, Softball, and Cross Country Team Pictures. Don't forget to bring your uniforms to turn in after pictures. view image
SEE ALL posts