Junction Hill Food Drive It's time for the Annual Junction Hill Food Drive! The food drive will begin 11/29 and end on 12/13. We are going to use the point system again this year to inspire some competition. Instead of counting the number of items, we are going to use a point system for the different types of items that are donated. Students are to take the items to their homeroom teacher or it can be dropped off during the student drop off time in the mornings. Food that is brought in or dropped off should be bagged or boxed and labeled with the child's name and class so that points can be awarded. The class with the most points in the elementary and the most in middle school will win cookie decorating parties supplied by PTO. If you have any questions please contact Mrs. Amanda Jens. *Cash Donations-$1=1pt. Please do not send in out of date items as points will not be awarded for those.

We want to remind everyone tomorrow is the Veterans Day Parade. We will be taking all students out to observe and support our Veterans for their service and sacrifice in defending our freedoms. Please dress warm for the weather of mid 50's temperatures and 15 mph winds. We also want to remind everyone that our Veterans Day Assembly to honor and recognize our local Veterans will begin at 2:30 tomorrow Thursday, Nov 11, in the Gym. The public is invited to attend.

Boys and Girls A team basketball season begins tonight at Junction Hill. The first game is at 5:30 (11/4/21) We play Koshkonong. This season, our game times can be found on the Hornets Happening Calendar.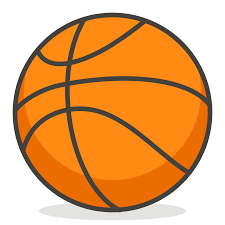 Tomorrow (10/14) is picture re-take day for those that were absent on the original date. In addition we will also be taking Baseball/Softball pictures. Thank you.

Web Page - PTO Fall Carnival Update - the weather has not been friendly to us trying to plan for an outside Fall Carnival. With the forecasted impending weather of rain, winds and cooler temperatures we will be moving the activities inside to the Gym for Friday night, October 15th. Please come out and enjoy the evening of activities and support the 2021 Junction Hill PTO Fall Carnival. Activities begin at 4:30 and we will finish up at 7 pm.

Due to the rain and chances for storms this afternoon, Cross Country Practice has been cancelled for today, October 6th. TOMORROW, we WILL have Cross Country practice from 3:45-5:00pm.--

This is a reminder, there is no tutoring in grades K-4 at Junction Hill today, 10/5/21

ATTENTION: Today's HCAA softball and baseball tournament games are being moved to the West Plains City Fields right beside the football stadium.

The PTO Fall Carnival scheduled for Saturday October 2nd has been postponed due to weather and has been rescheduled for Friday, October 15th from 4:30 pm to 7 pm. This also gives students 2 more weeks to bring in items to their homeroom classes to fill the themed baskets that will be raffled off at the end of the Carnival night of activities. We want to thank everyone for their support in keeping the tradition alive of the Junction Hill Fall Carnival. All money raised through the Fall Carnival and other fundraisers for the PTO are invested back into student activities and classroom activities. The PTO is still in need of volunteers for 30 minute time slots. If you have any questions or you would like to volunteer to help please contact Mrs. Brittney Ronzani of the PTO at
bronzani89@gmail.com

The Fall Carnival for Saturday October 2nd has been postponed due to forecasted rain. We apologize for the inconvenience of postponing and rescheduling the Fall Carnival. Our goal is to have a fun afternoon/evening of events to support the Junction Hill PTO. Thank you to everyone in their support for the PTO and details for the reschedule date will be posted soon.

Looking at the rain-filled forecast, a decision has been made to move the Baseball & Softball Tournament to next week. Monday games will be played at Junction Hill. A-Team Boys & Girls will play at 9:00AM on Monday. B-Team Boys will play at 10:15AM on Monday. B-Team Girls will play on Tuesday at 9:00AM at Richards.

Due to rain, today's baseball and softball games (9/29) have been postponed. They will be played tomorrow at Richards. Exact game times will be posted as soon as they are confirmed

Today was picture day, if you forgot to send the order in, it's not too late. Call Hillburn at 1-417-256-2050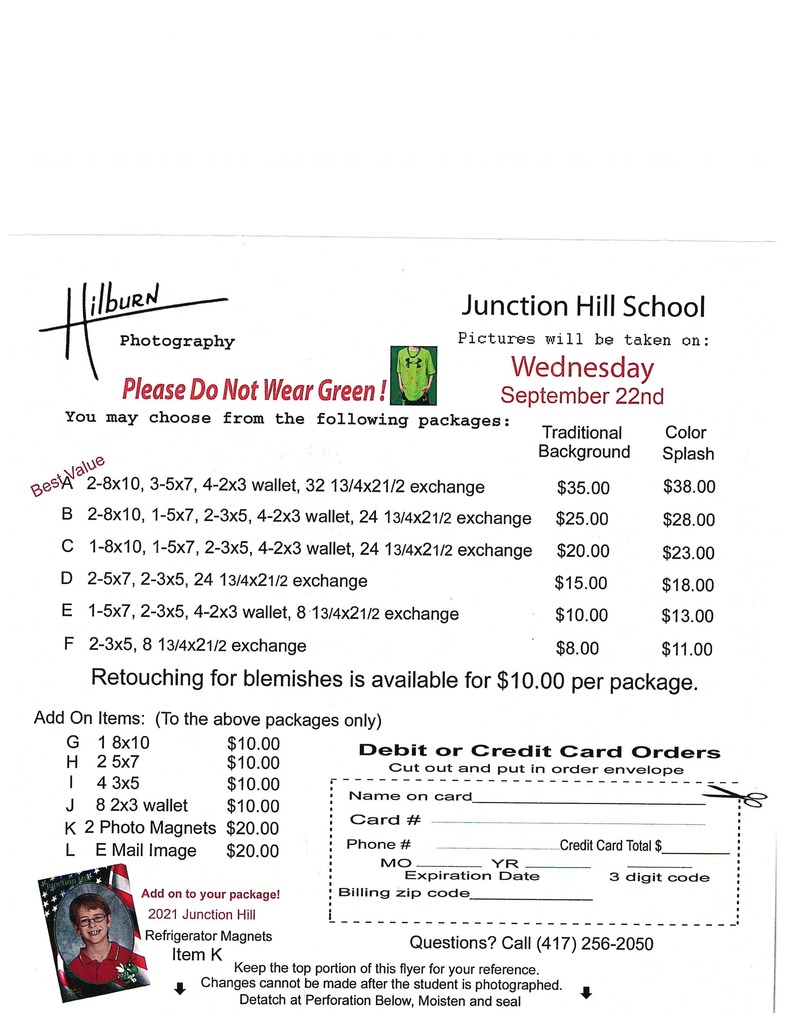 This is just a reminder: Tomorrow, September 22nd, is picture day at Junction Hill.

Due to unforeseen circumstances, the Kosh softball girls are unable to play against us today. Instead, our softball girls are going to play a practice game against each other. Concession stand will still be open. The practice game will begin at 12:30.

Due to the rain and flooded fields, Baseball & Softball camp for today, August 18th, has been cancelled. We will have practice the 1st day of school, Monday, August 23rd from 3:45-5:15PM.

New Student Registration New students who are planning on attending Junction Hill for the 2021-2022 school year may come in and enroll on the following dates: August 10 and 11 from 9am to 1pm.  No appointment is necessary.  This is for students who are new to the district as well as any student who did not attend seated instruction at Junction Hill during the 2020-2021 school year.  Please bring the student's birth certificate, immunization records, and proof of residency in the Junction Hill School District.  If you have any questions, please contact the school at 256-4265.

Parents of summer school bus riders. We are running 10 or 20 min late due to a late arriving high school bus.

The 2020-2021 school year has ended, and our teachers are sad to see it come to a close. We are going to miss our students! It comes as no surprise, but we are already looking forward to 2021-2022. Thank You Junction Hill family!

Attention parents of Summer School Hornets and High School Bus Riders. Summer School Bus Routes - We will be running 3 bus routes to pick up High School students still attending school and summer school students who have contacted the school needing transportation. The 3 bus routes are Mike Haeffner (Bus 17) and his route will be close to the same times currently, Larry Lindeman will be driving Paul Bolander (Bus 10) and George's Route (Bus 1) combined. This route will be about 5 to 10 minutes earlier than normal. Jared Davis will be driving Darrell's route (bus 18) and Karen's route (bus 19) combined. Bus stop times are being identified to be given to parents and students this afternoon or tomorrow for this route. Summer School - Front Doors will open at 7:25 am and breakfast and lunch will be served free to all students. Classes begin at 7:45 am, the day will conclude at 3:50. Parent pick up will begin at 3:40 pm