Baseball and softball games scheduled for today have been rescheduled for Tuesday at 2:00pm. Again, baseball and softball games scheduled for today have been rescheduled for Tuesday at 2:00 pm. Thank you for supporting Junction Hill athletics.

Please come to our Family Night tomorrow evening at Junction Hill school. This year's theme is My America, My school. Our cafeteria opens at 4:45 to serve a free meal of hot dogs, baked beans, chips and apple pie. At 5:45 we will have a special performance by the West Plains High School Swing Set under the direction of Mrs. Kelly Dame. Our Second and Third Graders will perform a play about the pledge of Allegiance, followed by our kindergarten and first grade leading the pledge. Second and Third graders will then sing, followed by a presentation from our fourth grade about the preamble to the constitution. Fourth and Fifth graders then take the stage to sing, followed by a performance from the Junction Hill Honor Choir. Please come out and help celebrate our great nation by supporting our amazing Junction Hill Hornets. Thank you.

During our Monday morning meeting our 6th - 8th grade choir led us in the Pledge of Allegiance. We are very proud of these students and look forward to hearing them sing at Title I night this Thursday evening.

All baseball and softball games have been cancelled for today due to muddy field conditions. Games are rescheduled to be played on Monday, September 12.

Baseball and softball practice is cancelled for today September 9, 2016. Again, baseball and softball practice is cancelled for today.

Just wanted to remind all of our Junction Hill family that tomorrow is Picture Day. All of our students and staff will have their picture taken, so go back to the closet and put on your best clothes. We want to thank you for your patience since this is a rescheduled event. Again, tomorrow is picture day at Junction Hill.

School pictures were scheduled for today, August 31st, and unfortunately the photographer experienced car trouble this morning enroute to our school this morning. All available photographers with Life Touch Pictures were booked at other schools for their picture days forcing us to reschedule our "Picture Day" to September 6th. We are holding all picture order forms that have been turned in. We apologize and Mike Baldwin of Life Touch Pictures apologizes for the inconvenience in rescheduling our picture day.

On September 22 our Baseball "C" Team will host Fairview at 4PM. Come out and watch these young men participate in our baseball program.

Baseball and Softball games against Fairview will be held on Monday August 29, at Junction Hill. A Team will begin at 2PM and the B game will follow. Thank you for your patience.

The softball and baseball games scheduled for today at Junction Hill have been cancelled due to the weather. The games will be rescheduled at a later date. Again, the softball and baseball games scheduled for today at Junction Hill have been cancelled due to weather. Thank you.

Notice: As of right now all baseball and softball games are on. We are currently monitoring the weather and if a cancellation is made, it will be made by 12:00 PM!

I want to wish our baseball and softball team good luck today as they take on Fairview at home. This is their first game, so lets hope they had a lot of fun.

If you have ever asked the question, "How can I be more involved in my child"s school?" this message is for you. At Junction Hill, we love our volunteers. Our teachers appreciate the help and time that volunteers invest in us. We will hold a volunteer orientation on Thursday, August 25th at 4:30 in the Library for all who are interested in volunteering some time with us. If you cannot attend, but you would like to volunteer, please call the school and make arrangements to come in and visit with Mr. Dern. We look forward to seeing you on Thursday at 4:30

If you are calling to inform the school about parent pickup, please call prior to 3:00PM. Thank you

Ten prospective substitute teachers attended the 4th Annual Junction Hill Substitute Teacher Orientation. Mr. Dern and myself were very pleased with the interest expressed in our school by these candidates and the level of interactive questioning that took place. We are proud of the manner in which substitute teachers are respected at our school and believe these courageous individuals serve as a barometer to how well our students display this respect.

Wanted to recognize the hard work of Coach Harrill and his team. Victories in the last two visits to Alton must provide encouragement for the coming season.

All students who plan to attend the Bounce House attendance incentive this Friday MUST have a signed waiver from a parent/guardian.

One student from each class is selected each day at lunch to pick from the prize table. Teachers select the student based on work ethic and behavior. Boy our Junction Hill kids are lucky!!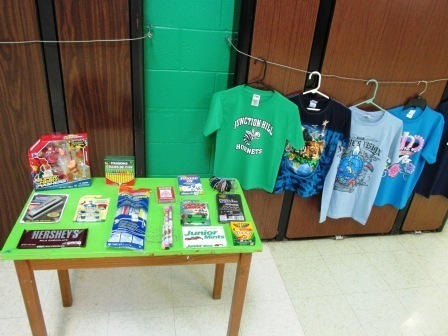 Summer school students working hard in the classroom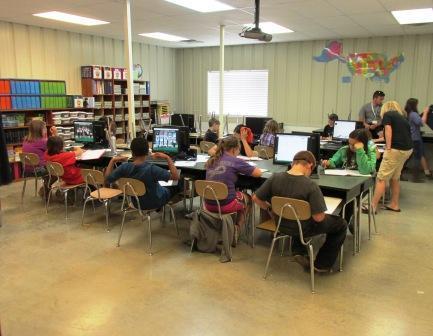 Rick and Pam are working hard to get the classrooms ready for next school year. Thank you!!