News
Ms. Blankenship's 6th grade science class recently performed a STEM challenge that required students to build a tower out of marshmallows and toothpicks. Within the challenge students had to design their own tower, collaborate with group members to create a group design, and then build their tower.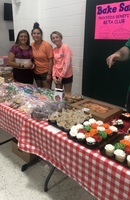 Junction Hill's Jr. BETA club recently had a bake sale to raise money to go to state convention. The club raised half of the funds needed for convention!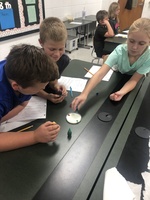 5th grade students have been studying the scientific method. To experiment with these steps the students explored what type of reaction milk and soap had when they were mixed together.
SEE ALL NEWS
LIVE FEED

With the forecasted rain to move in tomorrow afternoon and with increasing chances later in the day the Baseball and Softball games for Friday September 20, 2019 at Glenwood will begin at 12 pm. Students will return to Junction Hill and be able to be picked up there or ride their respective buses home.

This is a reminder that fall Picture day is Wednesday August 28th! Smile Big!

Lee Johnson
about 1 month ago
Baseball/softball games with Kosh today Friday August 23rd have been cancelled due to muddy field conditions from the rain overnight.  These games have been rescheduled for Tuesday August 27th here at Junction Hill at 1 pm.  Only the A teams are scheduled to be played.  

Lee Johnson
about 1 month ago
Student Change in Transportation Reminder: Please remember that if you need to change your student's normal daily transportation, such as needing students to ride the bus instead of being a parent pick, you MUST call the office by 3 pm each day. This includes tutoring and any extracurricular activities transportation pick ups. We begin our process of student and teacher notification of students transportation changes at 3 pm, any calls received after 3 pm are likely to not be processed for student/teacher notification in time before students board buses.
SEE ALL posts