News

7th grade has been learning about Medieval Japan's feudal system. Each student was assigned the role of either an Emperor, Shogun, Daimyo, Samauri, or Peasant. The students had to work together to create a skit that displayed each role in their society.
Junction Hill School has approximately 75 sheets of Metal that was removed from the Hart Building Bus Barn. These sheets are approximately 24' long. We are accepting sealed bids that will be opened at our April Board Meeting. If interested in looking at the metal please contact the school to...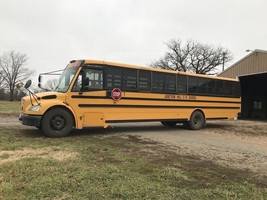 Junction Hill School has 2 Disabled Buses for Sale. We are taking sealed bids for these buses to be opened at our April Board Meeting. The Board of Education reserves the right to reject any and or all bids. Bus 1 has a Cummins engine with an Allison Automatic that has approximately 10K miles...
SEE ALL NEWS
LIVE FEED

Tim Perkins
about 1 month ago
Due to incoming inclement weather of freezing precipitation to be here this afternoon, we will be dismissing early at 1:30 today. All after-school activities, tutoring, chess practice, and pee-wee ballgames are cancelled for today. Again, Due to predicted freezing precipitation during afternoon dismissal hours, school is being dismissed at 1:30.

Lee Johnson
about 1 month ago
Given the current forecast for the weather Tuesday February 19th there is a good possibility for early dismissal due to inclement weather coming in after noon. In this event all extra curricular activities will be canceled as well. This will be a good time to review early dismissal plans to pick up your child.

Lee Johnson
about 1 month ago
REMINDER: PTO Chili Supper and Cheerleader Quarter Auction for St. Jude will be Saturday Feb 9th at 5 pm. All proceeds will be donated to the St. Jude Radio-thon. Raffles for 1 of 4, 50lbs boxes of ground beef and several classroom baskets will be up for auction. Several vendors with popular items for auction from Tupperware, Magnetables, Gerties Gifts, Pink Zebra, Norwex, and Color Street.

Lee Johnson
about 1 month ago
REMINDER: Tonight Feb 6th is Junction Hill PTO night at Dairy Queen. 10% of sales will go to Junction Hill PTO
SEE ALL posts